Post by HELENA BADDOCK on Dec 6, 2016 22:35:00 GMT -6
Hi, everyone! This I my first tutorial, so let me know if anything isn't clear. Also, I usually add my models first, so things are going to look a little messy until we get to the end.
This is made JUST for learning purposes. Please, try to mix it up somehow and don't just swap out models.
Resources:
texture one
by
Vanessa
,
texture 2
,
texture 3
,
texture 4
by
meereen
,
texture 5
,
texture 6
.
light texture 1
and
light texture 2
both by
Erica
brushes
by ghislaine
model 1
and
model 2
coloring
by
Erica
Step One:
Open up a 500x200 image and add on texture one. Then add on texture two to one side, set it to soft light, and erase the hard edges. Duplicate texture two, and do the same on the other side.
Step Two:
Add texture three and bring the opacity down to 65%. I hard cut around the triangles are the left side then duplicated it and flipped it so the yellow would be on both sides and so the triangles would fall right. Don't worry if it looks messy in the center. We're going to cover or erase most of this.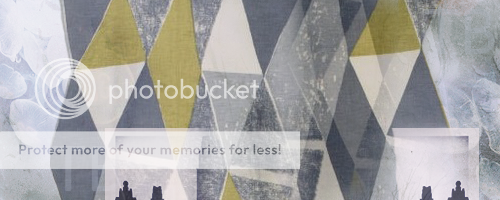 Step Three:
Take texture four and set the opacity to 60%. I trimmed some of the white off of the top and side and erased the part with the lightening, and then duplicated and flipped it on the other side. Erase the part that's showing through the city texture. Again, don't worry if the inside edges are messy, because they'll be covered up.
Step Four:
Add and resize model one. I soft erased around her hair and hard cut a little around her shoulder and glasses. Add texture five on top, resize it down a little, and trim some of the texture down on the side. Set its opacity to 87% and erase everything except for texture one from underneath it.
Step Five:
Add texture six. To get the triangle shape, I added a layer mask (which I recommend before you start erasing ANYTHING), erased all of it, and used the triangle brushes to add it back in. Then I tilted it to the left a little.
Step Six:
For the text, the "S" is
freebooter
at 132pt, colored #acaa69, and tilted it to the left a good bit. The "ienna" is the same at 60pt. Add a drop shadow to both > d:1, s:1, s:1 set at 90% on the "s" and 56% on the "ienne".
The small text is Calibri, 8pt, #171d20.
Step Seven:
Resize model two and hard it all out. Looks kind of off right? She's just kind of leaning on nothing which looks awkward. I like to go in on models like this and give them a shadow to add some depth and make it seem like there's something behind them. Luckily, with this picture, that was already a shadow. I duplicated the layer, desaturated it, and pulled it underneath the colored one. Then I soft brushed around her a little bit to have that show.
Step Eight:
Let's add some light textures! I'm going to skip step-by-step pictures of these, because it's all about playing around with making sure you highlight your focal the right way. (Basically, make it the brightest.) All are set to soft light at 100%. One is flipped and stretched a little. Add it again but skip the stretching and flipping. Add 2 and stretch it a little and erase it except along the top. Add it again and don't stretch it, but do erase out all the harder lightning bolts on this one.
Step Nine:
Add some coloring!
New adjustment layer > Color lookup > 3Strip > 35% opacity. If you don't have PS CS6, you may can just play around with a saturation or vibrance layer.
Miracles happen from the pack by evey v at 100%.
New fill later > gradient > #c7c7c6 to 929292 > overlay at 49%.
Finishing Touches:
(These won't be exact, but they'll be close.) Duplicate all and merge them. Then go to topaz labs:
Clean: s:1 t: 0.06 r: 13
Edges: a:1 r: 0.70 s: 1.42
Texture: t: 0.06 b: .85 s: 2
Then sharpen up around both models faces with a soft texture tool set to 50%.
And you're done! If you have any questions or need something elaborated, jet let me know.