Post by HELENA BADDOCK on Dec 6, 2016 22:40:32 GMT -6
This tutorial is for learning purposes only. Do not recreate it exactly, and try to be more creative than just replacing the models. It is not to be used for contests or filling requests.
Stocks:
one
,
two
,
three
,
four
,
Textures:
one
,
two
by
krypteria
,
three
,
four
,
five
,
six
,
seven
,
eight
Models:
Kiko 1
,
Kiko 2
Lighting Textures:
one
by
Eliza
,
two
by
Erica
Step One:
Place texture one down then put stock one on top. Set it to soft light at 88%. Don't worry too much about the erasing this right now. You'll probably need to do it a little more in a few steps.
Step Two:
Place stock two and erase so that the lane runs along the stairs.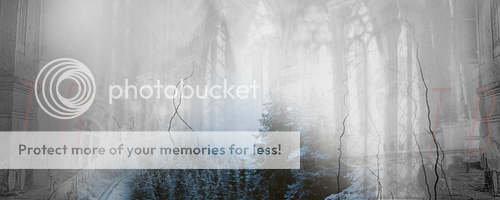 Step Three:
Add stock three. Erase so you just have the column and stick it along on normal the right at 84%. Duplicate, flip it horizontally, and stick it along the left edge at 36%.
Put texture two on top of all of that and set it to multiply at 35%.
Step Four:
Add texture three, and erase the hand, dark center part, and hard edges. Leave it on normal, but drop the opacity to 28%.
Then add texture four, and set it to soft light at 58%.
Step Five:
Add texture five, and set it to screen at 100%. Go back to the house stock and erase to make sure it's only showing inside the circle. I also erased some of the mistletoe stock out from inside the circle as well.
Add stock four on top of that. I hard erased around the main curtain area and soft erased a little around the top and around the right side to blend it in.
Step Six:
Put in your first model. I mostly just soft erased then went back in with a hard paint brush on my mask to make her hair look hard cut.
Add texture six next on soft light at 100%, and erase it from on top of the model's face.
Step Seven:
Create a new layer. Click on your ellipse tool. Set it to no fill, white stroke, and .99pt. While holding down shift, create a series of circles. This is what mine looked like.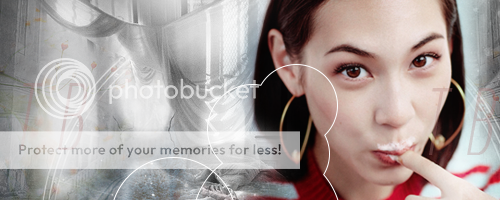 When you let go, it'll make one big bubble.
Do it again but change your settings to white fill and no stroke. Turn the opacity down to 67%. I did all this mostly to look like a snowman, but it may be easier to do all of this after you do it specifically goes around your text.
Step Seven:
Add texture seven on top of the bubbles and set it to lighten at 32%. Add texture eight on top of them as well and set it to lighten at 100%.
Add your second model and hard cut all of her this time.
Text:
The small text is Georgia, italicized, 8pt, #a4011a. I shifted it and made it fit in the bubble.
Big text is Georgia, italicized, 8pt, #eae1dc.
Behind it, creat two rectangles with a #a4011a fill and #ffffff stroke. Tilt them both to fit behind your big text.
Finishing:
Add both light textures. Made sure the bigger white what of the first one is over your small model. Both are set to soft light 100%. Add your coloring on top of that. (I'll probably release this for use soon.)
If you don't have topaz, I'd recommend at least going back and sharpening up your models eyes. My topaz settings were roughly:
Clean: s:1 t: 0.06 r: 15
Edges: a:3 r: 0.70 s: 1.42
Texture: t: 0.06 b: .85 s: 2
And you're festive and finished!